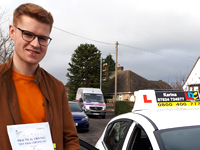 Charles Parkins
I did it!
I couldn't fault either my instructor or the LDC system. I chose to go for an intensive course after struggling to get regular lessons near work and found Karina. She not only helped me to feel more comfortable and confident with driving but has also helped me to enjoy driving again. I wouldn't hesitate in recommending Karina to other learners along with the LDC system.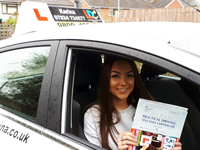 Holly Kitson-Rowntree
I am extremely pleased with my driving experience and have had the best help possible. Would recommend greatly.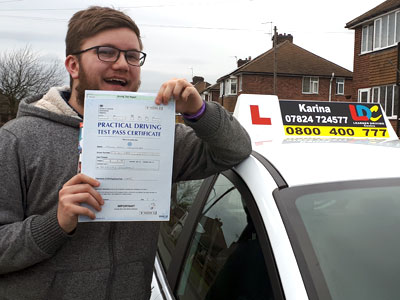 Sam Springthorpe
Passed 1st time
First off let me say a big thank you to Karina. She was always so supportive and kept moving me forwards. Her teaching style works so well with the LDC system it was like the system was designed for her. In some ways it is. The LDC system rewards students who learn outside of lessons and allows the instructor to focus on applying the material found in the comprehensive LDC book. This makes lessons less about theorising and more about actually doing! The LDC website was consistently updated with lesson times and I was always only a phone call or an email away from Karina. There is no need to use anything but the LDC site for your theory, forget the other DVD'S and books. LDC emulates the real test with stunning accuracy and is constantly updated.
I went from student to driver in a mere 20 hours. Had I not been with Karina and the LDC system I don't think this would have been achievable. Thank you!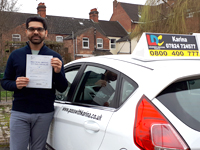 Sagar Mody
International Licence to British Licence
Karina is an excellent instructor. I had the feeling I would pass the test after the very first day of driving with her. Being an experienced driver, toning things back is always tricky but with Karina's guidance it took only a few lessons to pass! It was a great experience and I will always recommend Karina as a driving instructor. Thank you.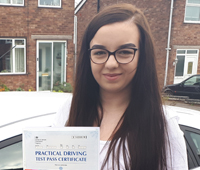 Vicky Woodhouse
So happy!
The book was very helpful as even when I wasn't physically driving I could re-cap what I had done. Karina has made me feel so much more confident and taught me better than I could have hoped for! Passing my test has felt so much easier with Karina and I'll always be so grateful for the confidence boost her teaching and reassurance has given me.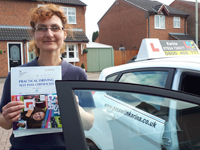 Michelle Winfield
Automatic to Manual
Karina is an excellent instructor who explains everything fully and in simple terms if required. I would recommend her to anyone needing lessons as she is calm and gets the pupil to find the answers rather than telling them everything so they can gain a better understanding of driving.
Charles
From a parents view
Prior to my son starting an intensive course, Karina spent time with us, talking through the LDC system and explaining how the intensive course worked. She was very accommodating with dates and times and understanding of the difficulties with my sons shift patterns. From the very first lesson with Karina, my sons confidence grew and he began to enjoy learning to drive again. She took the time to understand what worked best for Charlie (my son) and this resulted in him passing in a short time and is now a confident driver. Charlie worked his way through the workbook and enjoyed this style of learning. I would definitely recommend both Karina and the LDC method to anyone who is serious about learning in a very competent way, but enjoying the experience also.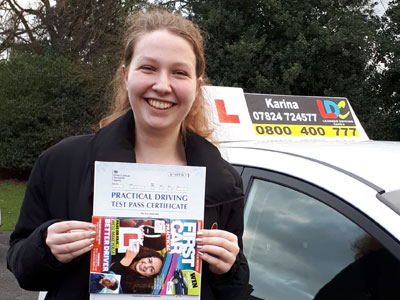 Chloe Ledger
I can't believe it!
Karina is an absolutely wonderful instructor. Never have I felt so encouraged, even during times when I kept messing up. She always made sure that I knew what I was doing and helped solve any problems I had. Each lesson was fun and I constantly felt supported. With her support, I now feel I'll be able to become a competent and safe driver; she has left me with skills I'll use for a lifetime and for that I will forever be grateful. LDC System - books and videos are very helpful and informative. The explanations were well structured and the quizzes at the end of each section were helpful in consolidating knowledge and identifying weak points.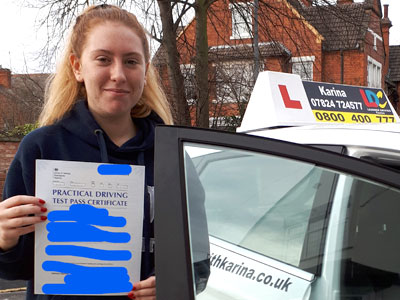 Abigail Wilson
I did it!
As an instructor, Karina has been extremely patient and has made me feel confident in my driving. Karina has always been punctual, bringing enthusiasm and motivation to every lesson and always made me feel at ease with her calm attitude. The LDC system had excellent online resources to prepare me for my theory and a workbook which allowed me to feel more in control of my learning. I can confidently recommend Karina and the LD system to anyone.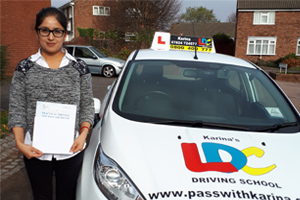 Dania Tapia
Passed 1st Time
My coach, Karina, was the exact type of coach I needed. She worked in a client-centred way by listening to me, finding out how I learn best, the things that were getting in the way of my progress and how she could help me. She was always on time, with a big smile on her face and with a motivation that was contagious. Her skills as a coach plus the LD system methodology of teaching helped me to pass my practical test on the first try. The workbook and videos specially were key aids to my learning, making it simple, clear and entertaining to process information.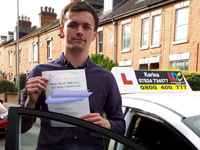 George Karta
Passed 1st time
Karina is an excellent instructor who is able to easily make you feel comfortable driving and explain any topic or answer any question. I was impressed by her punctuality and her always positive and calm attitude. The Student-Centered LDC system made me feel in control of my own learning and progress, which was reinforced with progress reviews every lesson. I can easily and confidently recommend the LDC system and Karina to anyone!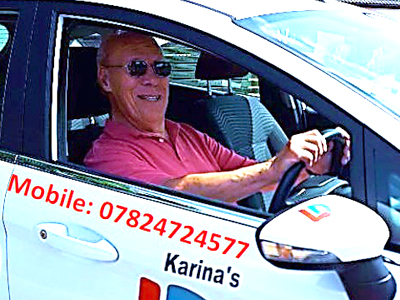 Terry Nihill
Got my confidence back
Terry has been driving for 40+ years and spent the last 35 years living overseas, driving an automatic. Arriving back in the UK he wanted to refresh his driving on the left hand side of the road, get to grips with driving a modern manual vehicle and have a better understanding of lane discipline around busy complex roundabouts. After 5 X 1 hour lessons, this is what he had to say: Karina is professional in every sense of the word with an extremely pleasant and polite manner. From the first to last session I felt completely at ease with her and she always displayed a willingness to listen to any concerns that I needed to address. She also possesses an excellent knowledge of the technical aspects of the vehicle operation. I would not hesitate to recommend her services to anyone. This, for me, has been a real pleasure. The LD system and Driving Skills workbook are also excellent.