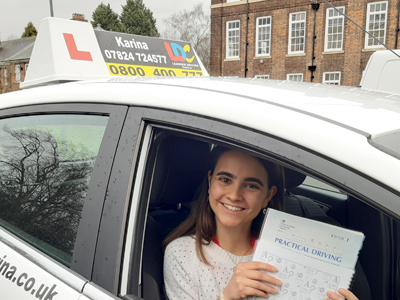 Jessica Van Damme
I did it!
Karina was great in helping to build my confidence around driving. She has helped to overcome my fears and I now feel confident to drive on my own! Very highly recommend!!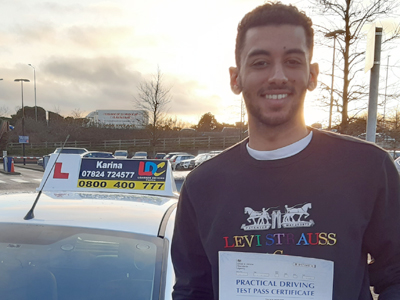 Thomas
I did it!
Thomas passed his test with 2 minors. He used the LDC workbook alongside his lessons.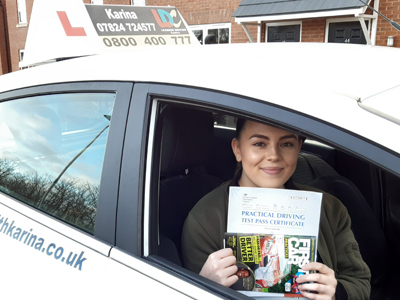 Kyla
1st time pass!
Karina is a great instructor. After having several different instructors, I can honestly say that she is the best! She has constantly encouraged me and made me believe in myself. She always listens and has made me feel at ease for the whole experience. I can't recommend Karina enough! The LDC workbook has also helped as it has meant that I can see where I am at with my driving and what I have covered.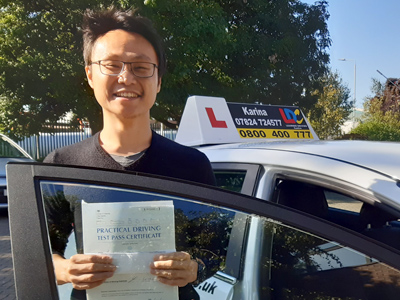 Ming-Feng Yang
I did it!
Karina is absolutely a brilliant instructor, she's always super punctual and her constructive explanation and analysis made lessons goes amazingly well for me to understand how to react properly in different situations. Her lessons not only taught me how to pass the driving test but more importantly how to drive safely every time when we're in the car. I'm sure these lessons would help me keep away from accidents in my future driving.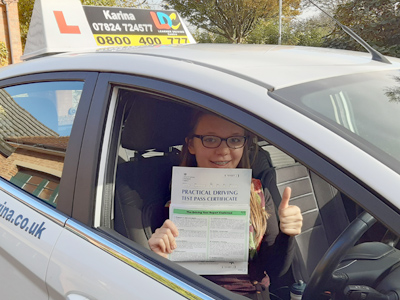 Georgia Bedford
1st time pass!!!
1st time pass. Karina is an excellent teacher. Would highly recommend.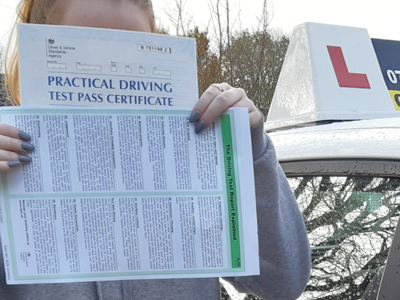 Lucy
1st time pass!!!
Used Karina Foster as a driving instructor and passed first time within 3 months. She's incredibly patient and will go out of her way to help you out. Would recommend to anyone!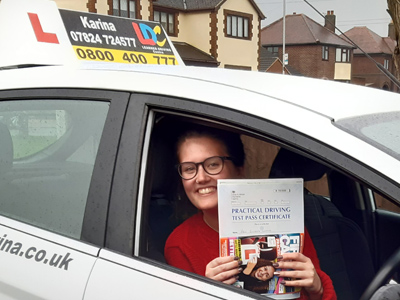 Paige Wesley
1st time pass!!!
I recently completed a week intensive driving course with Karina and passed first time. I throughly enjoyed the lessons with her and she made me feel extremely relaxed and comfortable in the car. At the start of the week I had little confidence in myself and driving but by the end of the week I had gained so much confidence and was able to drive independently. Karina was very understanding when I struggled to grasp some areas of driving and happily went through these again using different techniques in order to ensure I was confident before moving onto the next topic. Karina definitely had more faith in me than I had in myself and I am so happy that I chose her as my instructor. I found the LDC system and workbook really useful. Before I started driving I had very little knowledge of how to drive but this book made learning to drive that bit easier. It explained things in a basic way and even had mini tests to ensure you understood what you had just read. I especially found the book useful for test preparation. The book contains the questions and answers for the 'Show me tell me' questions and even shows you what examiners are looking for when you are on test. I would honestly recommend the LDC system when learning to drive and moreover I would definitely recommend Karina.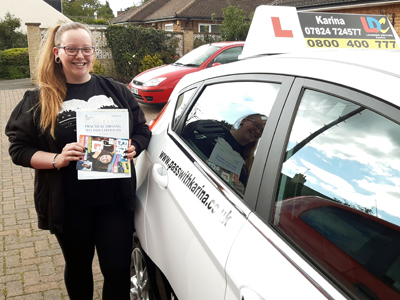 Lenna Armstead
1st time pass!
Working through the LDC workbook was very helpful before my lessons. Karina was very patient and took the time to teach me the correct way to do things. If I had any problems I could be honest without any hesitation. I have enjoyed learning with Karina and felt comfortable. Everything I did, I did at my own pace.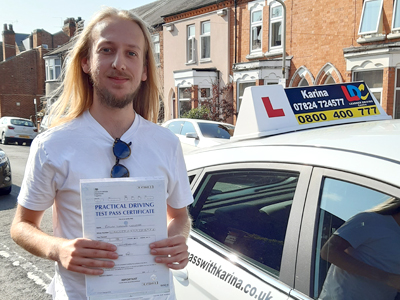 Rowan Warner-Leicester
1st time pass!!!
Karina is a fantastic driving instructor. I had a previous instructor, but I was a really nervous driver and decided try someone new. Since switching to Karina, I never felt nervous in the car! She was always reassuring and positive which made me feel at ease completely. The LDC system is a great system which not only prepares you for your test, I felt like it prepares you for driving in real life too. I would highly recommend Karina to anyone.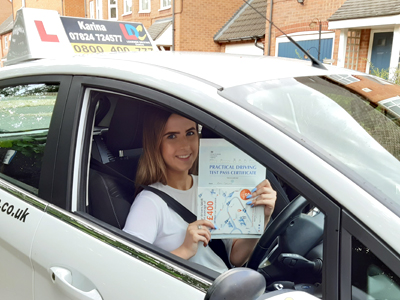 Amy Galvin
1st time pass!!!
I learnt to drive with Karina, I found the whole experience helpful and resulted in a 1st time pass. The workbook helped to gain experience in preparation for my lessons. Overall I would highly recommend LDC with Karina for amazing results.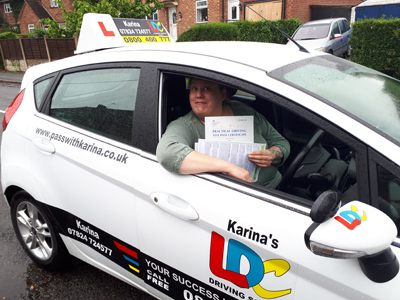 Alicia O'Neill
And breathe!!!
Karina has been an absolute gem of an instructor, extremely approachable, friendly, professional and made each lesson enjoyable with many laughs! I had zero confidence in my ability to drive and if it wasn't for Karina's charisma, I would never have passed. The LDC system made learning much more easy, in a manageable bite sized approach and gave me control in my learning with areas where I wanted to focus my time. I would recommend LDC and Karina as a Dream team, because if anyone could help an "Old Bird" like me pass a test, this was it.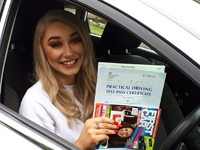 Lauren Clayton
1st time pass!
My instructor Karina was brilliant and really helped prepare me for my test. The LDC system and workbook also really helped to increase my knowledge. Thank you!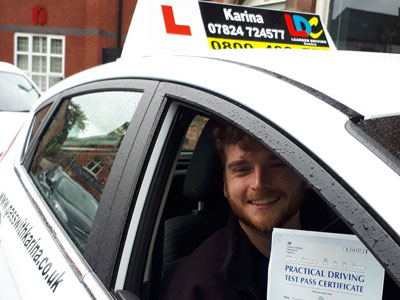 Christopher Stephenson
Passed 1st time
I have been learning to drive with Karina for about 4 months. From the get-go Karina has settled my nerves and made me feel comfortable in the car. This has allowed me to progress quickly under her guidance. I would strongly recommend all new learner drivers to book in, as Karina has been a fantastic instructor. The LD system has been a great help. As a visual learner, the use of the workbook and videos have been instrumental in my progress.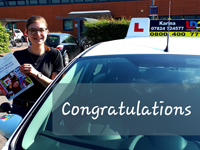 Jane Kyprianou
I did it!
Karina is an amazing instructor who is very flexible with her lesson times and always makes you feel comfortable in the car. I had previously had some driving lessons with another instructor, a long time ago and was quite nervous about my driving ability, however, Karina helped to build my confidence greatly to the point that I was test ready (which I didn't think would happen for a long time!) I am extremely pleased with my driving experience and cannot thank Karina enough for all her help.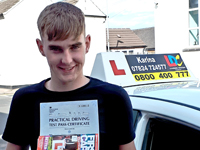 Jake Warner
No more buses!!!
The LDC workbook was easy to use, helped a lot, especially revising the show me/tell me questions and was worth the money. Karina was very easy to get on with, a good teacher and easy to learn from. She always arrived on time for my lessons and always happy and calm. Thank you!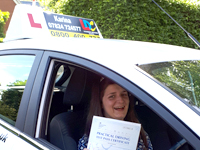 Bryony Bedford
1st time pass!!!
Thanks so much for helping me to pass 1st time! I found the whole LDC concept of learning to drive brilliant, especially the workbook which really helps you to make progress much quicker. The DVD's are great too if you want a visual demonstration as well. Thank you again!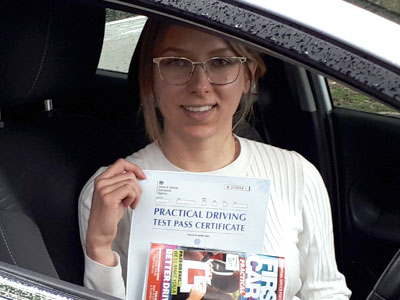 Klaudia Kotowska
I did it!
Having used services of other driving schools in the past, I was very pleased with a variety of methods and support LDC offer to ensure a successful learning experience. I have used online video's, lessons, as well as the workbook to prepare for the test and refresh my memory. At every stage of my learning, I felt that Karina knew what were my strengths and weaknesses and knew how to guide me to give me confidence and make me a safe road user. I feel that all the materials and resources provided by LDC are really helpful and efficient at preparing a learner for the tests,as well as for the future experiences on the road. I am going to recommend LDC as well as Karina to anyone in need of driving lessons.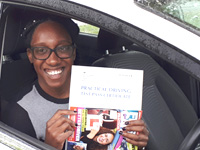 Chloe Williams
Passed 1st time
Karina was an absolute STAR and contributed so much to my learning. She was always on time for lessons, is great encouragement and gives constructive feedback really well. There is no need to be nervous with Karina in the car, she is one of the sweetest personalities out there! She is very understanding and her analysis of her students needs are spot on, which always filled me with GREAT confidence. Thank you Karina for everything, will miss our lessons but I'll see you out on the road!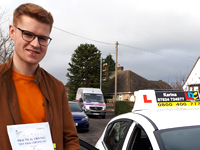 Charles Parkins
I did it!
I couldn't fault either my instructor or the LDC system. I chose to go for an intensive course after struggling to get regular lessons near work and found Karina. She not only helped me to feel more comfortable and confident with driving but has also helped me to enjoy driving again. I wouldn't hesitate in recommending Karina to other learners along with the LDC system.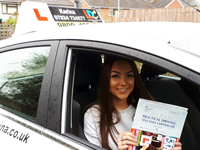 Holly Kitson-Rowntree
I am extremely pleased with my driving experience and have had the best help possible. Would recommend greatly.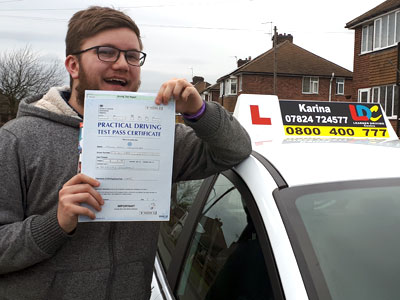 Sam Springthorpe
Passed 1st time
First off let me say a big thank you to Karina. She was always so supportive and kept moving me forwards. Her teaching style works so well with the LDC system it was like the system was designed for her. In some ways it is. The LDC system rewards students who learn outside of lessons and allows the instructor to focus on applying the material found in the comprehensive LDC book. This makes lessons less about theorising and more about actually doing! The LDC website was consistently updated with lesson times and I was always only a phone call or an email away from Karina. There is no need to use anything but the LDC site for your theory, forget the other DVD'S and books. LDC emulates the real test with stunning accuracy and is constantly updated. I went from student to driver in a mere 20 hours. Had I not been with Karina and the LDC system I don't think this would have been achievable. Thank you!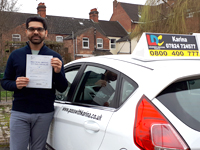 Sagar Mody
International Licence to British Licence
Karina is an excellent instructor. I had the feeling I would pass the test after the very first day of driving with her. Being an experienced driver, toning things back is always tricky but with Karina's guidance it took only a few lessons to pass! It was a great experience and I will always recommend Karina as a driving instructor. Thank you.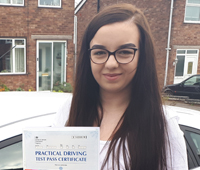 Vicky Woodhouse
So happy!
The book was very helpful as even when I wasn't physically driving I could re-cap what I had done. Karina has made me feel so much more confident and taught me better than I could have hoped for! Passing my test has felt so much easier with Karina and I'll always be so grateful for the confidence boost her teaching and reassurance has given me.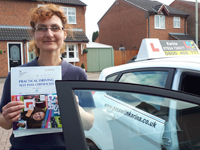 Michelle Winfield
Automatic to Manual
Karina is an excellent instructor who explains everything fully and in simple terms if required. I would recommend her to anyone needing lessons as she is calm and gets the pupil to find the answers rather than telling them everything so they can gain a better understanding of driving.
Charles
From a parents view
Prior to my son starting an intensive course, Karina spent time with us, talking through the LDC system and explaining how the intensive course worked. She was very accommodating with dates and times and understanding of the difficulties with my sons shift patterns. From the very first lesson with Karina, my sons confidence grew and he began to enjoy learning to drive again. She took the time to understand what worked best for Charlie (my son) and this resulted in him passing in a short time and is now a confident driver. Charlie worked his way through the workbook and enjoyed this style of learning. I would definitely recommend both Karina and the LDC method to anyone who is serious about learning in a very competent way, but enjoying the experience also.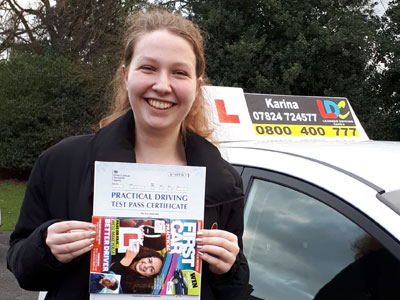 Chloe Ledger
I can't believe it!
Karina is an absolutely wonderful instructor. Never have I felt so encouraged, even during times when I kept messing up. She always made sure that I knew what I was doing and helped solve any problems I had. Each lesson was fun and I constantly felt supported. With her support, I now feel I'll be able to become a competent and safe driver; she has left me with skills I'll use for a lifetime and for that I will forever be grateful. LDC System - books and videos are very helpful and informative. The explanations were well structured and the quizzes at the end of each section were helpful in consolidating knowledge and identifying weak points.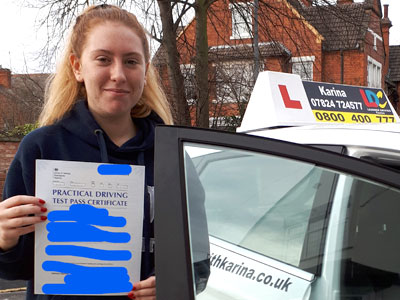 Abigail Wilson
I did it!
As an instructor, Karina has been extremely patient and has made me feel confident in my driving. Karina has always been punctual, bringing enthusiasm and motivation to every lesson and always made me feel at ease with her calm attitude. The LDC system had excellent online resources to prepare me for my theory and a workbook which allowed me to feel more in control of my learning. I can confidently recommend Karina and the LD system to anyone.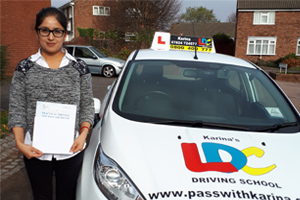 Dania Tapia
Passed 1st Time
My coach, Karina, was the exact type of coach I needed. She worked in a client-centred way by listening to me, finding out how I learn best, the things that were getting in the way of my progress and how she could help me. She was always on time, with a big smile on her face and with a motivation that was contagious. Her skills as a coach plus the LD system methodology of teaching helped me to pass my practical test on the first try. The workbook and videos specially were key aids to my learning, making it simple, clear and entertaining to process information.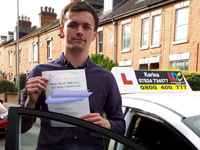 George Karta
Passed 1st time
Karina is an excellent instructor who is able to easily make you feel comfortable driving and explain any topic or answer any question. I was impressed by her punctuality and her always positive and calm attitude. The Student-Centered LDC system made me feel in control of my own learning and progress, which was reinforced with progress reviews every lesson. I can easily and confidently recommend the LDC system and Karina to anyone!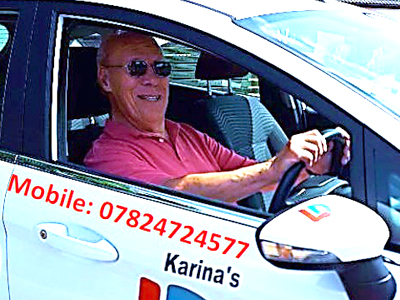 Terry Nihill
Got my confidence back
Terry has been driving for 40+ years and spent the last 35 years living overseas, driving an automatic. Arriving back in the UK he wanted to refresh his driving on the left hand side of the road, get to grips with driving a modern manual vehicle and have a better understanding of lane discipline around busy complex roundabouts. After 5 X 1 hour lessons, this is what he had to say: Karina is professional in every sense of the word with an extremely pleasant and polite manner. From the first to last session I felt completely at ease with her and she always displayed a willingness to listen to any concerns that I needed to address. She also possesses an excellent knowledge of the technical aspects of the vehicle operation. I would not hesitate to recommend her services to anyone. This, for me, has been a real pleasure. The LD system and Driving Skills workbook are also excellent.